---
Complementary and Energy Psychology Therapies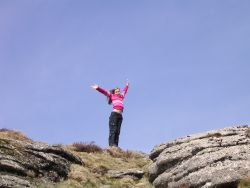 Which one is right for me?
I cannot know what has brought you to this website except that maybe you need some help with a particular problem, or maybe you just want to treat yourself or someone else, or find out more about particular complementary therapies. In any event I trust you will find what inspires you.
Finding a Therapist can be a bit daunting. As individuals we are all so different and sometimes we can gel with one more than another. Maybe what I have written resonates with you? Maybe you like the look of me? Maybe you are interested in a particular therapy I offer? If in my website you don't find all the answers to your questions then why not contact me?
Do you want to love your life and live your dream?
If you are that person who dearly wishes to change or be free from something in your life that is limiting what you can do then let's work together to find a way where you can achieve that or find a way to be at peace with it. We are all able to help ourselves but when we are in the thick of an illness or a negatively impacting situation we can need help to find the way forward. I can show you ways to deal with these and many more issues and I won't abandon you but will support and ensure that you know how to use the tools you have chosen. If this is you then you may want to look at a Personal Development course of therapies or EFT. If you prefer to have a relaxing therapy so that you can clear your mind for a while then why not try Reiki or Reflexology.
Or do you just want to treat yourself or someone else?
Sometimes it is lovely just to be looked after for a while. Maybe you are so busy that you have no time for yourself. Finding time to give yourself a relaxing therapy session can restore you for more than just the time you give to it. Or maybe you know someone who needs a short relaxing/reviving break from the rigours of their day to day life? Relaxing therapies like Reflexology and Reiki are perfect for this.
Do you feel under the weather, stressed or have a medical condition?
Whether you feel unwell for a specific reason or just under the weather then any of the therapies I offer can help you feel more relaxed and able to fight off the reason for your dis-ease. Stress is one of the most prolific conditions that we are all well aware of. This can be good stress e.g. getting married or bad stress e.g. losing your job. Why not try one of the therapies I offer? It may alleviate the stress and make you feel better. Is that worth a try?
IMPORTANT NOTICE
None of these therapies are diagnostic nor meant to replace the sound advice of your Health Professional whether that is your GP, hospital Doctor, Psychiatrist, Psychiatric Nurse, Nurse Practitioner or any other.
It is your responsibility to take care of your own health and well-being.
---
I am based in Southwater, West Sussex, UK